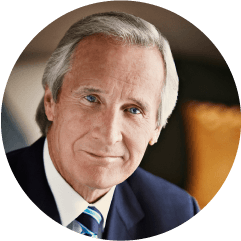 Don Schlapprizzi, Founder and President of Schlapprizzi Attorneys at Law, is one of the most highly regarded trial lawyers in the State of Missouri. In 1981 he founded Schlapprizzi Attorneys at Law, which he has continued to expand through the years, to ensure those hurt by another's negligence or other wrongful act could obtain justice. He was the lead trial lawyer in the longest civil jury trial in the history of Missouri.
Over the years, his firm has handled a wide variety of cases in Missouri and Illinois. He has earned the respect of his peers and inspired countless legal professionals, including his children, Craig and Toni; both are personal injury lawyers and they are proud to work beside their father.
Don is honored with long-standing memberships of some of the most prestigious "by invitation" only, legal organizations in the country, including the International Academy of Trial Lawyers, the International Society of Barristers, and the American College of Trial Lawyers. The latter's elite membership comprises less than one percent of the lawyer population as well as every member of the Supreme Courts of both the United States of America and Canada.
Don has served on the American College of Trial Lawyers Federal Rules of Civil Procedure Committee and currently serves on the Jury Committee. For more than 16 years, he served on the prestigious Missouri Supreme Court Committee on Civil Jury ­Instructions.
He is a graduate of Washington University in St. Louis, where he received both his B.A. and J.D.
His awards and honors include:
His memberships & charitable organizations include:
Fellow, International Society of Barristers
Fellow, American College of Trial Lawyers
Fellow, International Academy of Trial Lawyers
Fellow, National Trial Lawyers Association
Advocate, American Board of Trial Advocates (ABOTA)
American Association for Justice (AAJ)
Association of Plaintiff Interstate Trucking Lawyers of America (APITLA)
Board member of the Foundation for the Special Education of Children and the Soul that Sees Foundation
Past board member of the Archdiocesan Development Appeal and a member of Backstoppers, which provides financial and spiritual help to families of police and firefighters who have lost their lives in the line of duty
Participating and supporting member of Legatus, a group of business professionals who embody and demonstrate their faith in both their personal and professional lives
He is licensed to practice in:
State courts in Missouri
U.S. District Court for the Eastern District of Missouri
Recent Results*:
$800,000 settlement – Motorcycle Crash (St. Charles County)
$700,000 settlement – Trucking Crash (Crawford County; pre-existing injury)
$509,000 settlement – Vehicle Crash (St. Louis County)
$400,000 settlement – Products Liability (negligent packaging)
$540,000 settlement – Dangerous Work Environment (Cole County)
$345,000 settlement – Vehicular Crash
*Past results reported on this website afford no guarantee of future results. Every case is different and must be judged on its own merits.
Consider Reading: