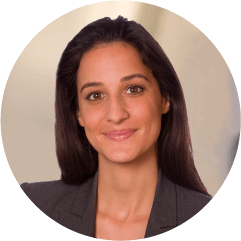 Antoinette (Toni) Schlapprizzi is a trial lawyer at Schlapprizzi Attorneys at Law, licensed in Missouri and Illinois. She believes that every human being has a unique dignity that must be honored and respected, and through her work as a trial attorney, she aggressively defends and protects this unique dignity each and every day.  Battling for truth on behalf of those who have survived serious injury and the loss of a loved one is at the core of who Toni is.
She received her undergraduate degree at Tulane University, where she played Division I soccer as a central defender.  After riding the bench her freshman year, she earned a starting spot, and remained a starter on her team's defensive line until her career ended. She went on to graduate from Washington University School of Law. Since then, she's been defending the survivors of serious injury and wrongful deaths in both state and federal courts in Missouri and Illinois alongside her brother, Craig, and her father, Don.
Certainly what drew Toni to the law was her father, Don Schlapprizzi. His conviction, moral code, and talent seep from every pore of his being to serve injured people and their families decade after decade. As a little girl, her father would tell her the stories of his clients and the courtroom, and she would pray for those people every night before bed. Toni considers her father to be one of the greatest mentors, teachers, and men she has ever known.
"I have a heart and drive to serve our clients; I learn from them every day; they are gifts in my life; I work as hard and smart as I possibly can for them."
Toni fervently believes in the jury process.
"A singular person is secured an equal playing field against powerful industry – whether insurance, government or business.  Juries ensure that the each of us will have a fighting chance against the powers that be."
Toni continues the legacy of Schlapprizzi Attorneys at Law with her father, Don, and brother, Craig. She feels blessed to be a plaintiffs' trial lawyer, and has great esteem for the legal profession and the courageous jurors, past, present, and future, in our community.
Practice Areas:
Professional Awards & Recognition:
Best Lawyers 2013- Medical Malpractice Law, Plaintiffs
Best Lawyers 2013- Personal Injury Litigation, Plaintiffs
Education:
Jurisdictions Admitted to Practice:
State courts in Missouri and Illinois
U.S. District Court for the Eastern District of Missouri
U.S. District Court for the Southern District of Illinois
United States Court of Appeals for the Eighth Circuit
Professional & Bar Association Memberships:
Missouri Association of Trial Attorneys (MATA) – Board of Governors
American Association for Justice (AAJ)
Illinois State Bar Association
Missouri State Bar Association
Significant Cases*:
$4,450,000 confidential settlement – wrongful death
$2,850,000 verdict– wrongful death
$2,500,000 confidential settlement– sexual assault
$1,883,378 settlement– dangerous defective road
$1,300,000 confidential settlement – ATV crash
$1,100,000 settlement– medical malpractice
$ 775,000 settlement – dangerous defective product
$ 500,000 confidential settlement – sexual assault
$ 350,000 confidential settlement – medical malpractice
$ 260,000 confidential settlement – medical malpractice
$ 125,000 in-trial settlement – pedestrian crash
$ 500,000 verdict – motorcycle crash (St. Charles County)
$ 125,000 verdict – soft tissue auto crash (St. Louis County)
$ 50,000 in-trial policy limit settlement – Uninsured Motorist (St. Louis City)
*Past results reported on this website afford no guarantee of future results. Every case is different and must be judged on its own merits.
Consider Reading: