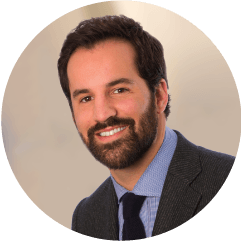 Growing up, Craig Schlapprizzi always knew he wanted to be a lawyer; it was ingrained in him from an early age, but it wasn't until he was in
law school at Washington University
that it clicked that he truly wanted to be a trial lawyer, and a good one at that.
"Anybody who does this, represents plaintiffs in personal injury cases, knows it becomes a huge part of your identity and your life."
His favorite aspect of his job is the courtroom experience. He's most passionate about representing everyday people in a courtroom in front of a jury because he believes it's a privilege, an honor, an incredible experience, and, of course, a competition. He played football during his time at Dartmouth and was motivated by the competition and dedication involved. He experiences that same competition through his trial work.
"There is a deep sense of satisfaction in standing up for someone who has been unjustly pushed around."
He likes going into something representing a person; he has always felt like he was on the right side, representing and fighting for somebody who was wronged. He's able to bring closure, and get people who wouldn't otherwise have the means, to live out the rest of their lives with dignity–that is what motivated him to be a personal injury trial lawyer.
When Craig's not in court, he's pursuing his other passion: cooking. He gets inspiration for his concoctions from Mario Batali, Michael Mina, and Emeril. When he's not creating his latest pasta recipe, he enjoys trying new restaurants, exercising, travel, and spending time with family and friends.
Craig is also a big history fan, his favorite historical figures being Abraham Lincoln and Winston Churchill. He's read many books on Lincoln, but he most frequently references the "The Quotable Winston Churchill" for a quick laugh or bit of motivation.
He is a member of the Missouri Association of Trial Attorneys and is on the Board of Governors, as well as a member of the ABA, and the American Association for Justice.
Practice Areas:
Professional Awards & Recognition:
U.S. News and World Report Best Law Firms- Medical Malpractice, Plaintiffs
Top 3 Winningest Law Firms- Plaintiff Missouri Lawyers Weekly (2012)
Bar Register of Preeminent Law Firms Martindale-Hubbell
 
Education:
Jurisdictions Admitted to Practice:
State courts in Missouri and Illinois.
U.S. District Court for the Eastern District of Missouri
Professional & Bar Association Memberships:
Missouri Association of Trial Attorneys – Board of Governors
Illinois State Bar Association
Missouri State Bar Association
Bar Association of Metropolitan St. Louis
Lawyers Association of St. Louis
Speaking engagements:
The Missouri Plan – Keeping Money and Politics Out of our Courts
St. Louis the King Speaker Series
Ideas for Effective Opening Statements
2018 Verdicts:
$2,500,000 verdict (St. Louis County)
$1,500,000 verdict (St. Louis City)
$500,000 verdict (St. Charles County)
$200,000 verdict (St. Louis City)
$125,000 verdict (St. Louis County)
$75,000 verdict (St. Louis County)
Other Significant Cases*:
$4,250,000 judgment - Wrongful Death
$2,100,000 confidential settlement (Ohio)
$2,000,000 confidential settlement 
$1,800,000 confidential settlement
$1,470,000 judgment - Motorcycle Crash
$1,000,000 confidential settlement - Wrongful Death Medical Malpractice
$800,000 - confidential minor settlement
$665,000 settlement – Motor Vehicle Collision
$650,000 recovery – Motorcycle Crash
$575,000 settlement – Motor Vehicle Collision
$550,000 settlement – Underinsured Motorist Case
$425,000 settlement – Insurance Coverage Dispute
$410,000 Confidential Minor Settlement
$300,000 recovery – Insurance Coverage Dispute
$200,000 verdict – Motor Vehicle Crash St. Louis County, MO
$185,000 settlement – Premises Liability
$150,000 verdict – Wrongful Death Phelps County, MO
$57,000 verdict – Trucking Crash St. Louis City, MO
*Past results reported on this website afford no guarantee of future results. Every case is different and must be judged on its own merits.
Consider Reading: