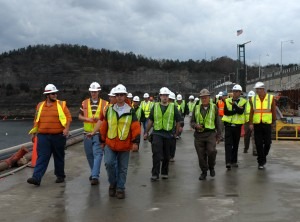 When you see a construction site, it's easy to envision the new building. It's a sign of new growth and economic stability–change is coming. But what we often forget is that construction sites are the location of many accidents, and not just for individuals working on the site. While it is the construction company and the contractor's duty to make sure all the equipment is safe to use, that doesn't stop dangerous situations from occurring. Cranes break, construction sites get messy, danger zones are unmarked and unattended, and all of a sudden, someone is hurt.
As we all know, injuries aren't hassle-free by any means. The hospital visits, the missed work, the rearrangement of your daily routine, the stress, and the bills accumulate. Vacation days run out and all of a sudden, your recovery takes a toll on more than just your family. It takes a toll on your livelihood.
It's important to take care of yourself when injured at a construction site. Going to the hospital, following up with your doctors, and taking the time to heal is all part of that recovery process. Asking for the legal help you need is another part that can't be ignored.  You're struggling to pay bills, you're navigating the unknown and uncertainty alone, and you shouldn't be.
At Schlapprizzi Attorneys at Law, we advocate for people like you who are injured because of someone else's negligence/carelessness. If proper care had been used, your injury would have been prevented.  You were in the wrong place at the wrong time and you shouldn't be penalized for the rest of your life for it. We want to help you heal in any way we can.  From communicating with insurance companies to preparing your case for trial, our family of attorneys wants to be there for you during this dire time. We hope to relieve your stress and help you take it one step at a time; let our family help yours.
To learn more about how the personal injury legal assistance at Schlapprizzi Attorneys at Law in St. Louis, MO can help you recover from your injuries after a construction accident, contact our office today.
Common Construction Accident Injuries
After being injured due to a construction accident, you're nervous, you're scared, but you're doing your best to be strong for your family. Working in construction is extremely dangerous and puts you in a high-risk position. OSHA reports that in 2016, over 5,190 workers were killed on the job; and one in five worker deaths happened on construction sites.
Falls are the most common cause of workplace injury, but there are many other causes of construction site injuries.
Falls
Anything at your worksite that could cause you to lose your balance is considered to be what OSHA calls a "fall hazard." It is important that construction site managers take extreme precautions to protect you from potential fall-caused injuries. For example, there should be a guardrail system, a safety net system, or personal fall arrest system if and when employees are exposed to a drop of six feet or more. If these systems are not in place the risk of a fall and injury increases dramatically.  The injury could range from a sprained ankle to spinal injury or death.
Struck by Object
Being struck by an object is another cause of serious injury, commonly occurring on construction sites. This classification of injury occurs when the injury is solely caused by impact with an object.
Injuries caused by flying, falling, swinging, or rolling objects are severe and should be taken very seriously. But like falls, if your employer takes certain precautions, the chance of injury can be greatly reduced. It's important that a construction site manager is doing everything in their power to keep these object-related construction accidents to a minimum.
Electrocution
Electrocution is an extremely traumatic and unfortunately common hazard on construction sites–causing injuries to both construction workers and innocent passersby's. According to OSHA, electrocution was the leading cause of construction deaths in 2005. Electrocution is what happens when a person is exposed to a lethal amount of electrical energy, exposing workers to burns, electrocutions, shock, arc flash, fire, and explosions.
Burns are the most common type of electrical shock-related injuries. Depending on the degree of your burn, it could be quite severe. They leave you disfigured and in some instances disabled, hindering your ability to work. After a burn incident due to electrocution, your quality of life has been affected.  Learn more about burn injuries and how we help people who've been wrongfully burned.
Helping You After Your Construction Site Accident
While you should be aware of safety procedures if you work on a construction site, it's also incredibly important for construction site managers to maintain certain expectations. Unfortunately, that does not always happen, leaving employees and bystanders at risk of serious injury. It is not always the negligence of a site manager that causes injuries to happen, though.
If you or your loved one has been injured due to a construction site accident, it's important that you take care of yourself. Your accident was out of your control, but your recovery isn't.
At Schlapprizzi Attorneys at Law, we help people just like you who have been wrongfully injured due to a construction accident. We've been helping individuals throughout Missouri and Illinois find relief after these traumatic events. Whether you were working on the site or you were an innocent passerby, this accident has caused you more anguish than anyone could've expected, and we want to help you recover. Our St. Louis, Missouri construction accident injury attorneys have extensive experience working with both construction workers and other injured persons when they are suffering with debilitating injuries due to a worksite mishap.
Contact our office to learn more about how we help people who have been injured due to construction accidents.
Photo Credit: NashvilleCorps via Compfight cc